EXPERIENCE BUNDABERG AT ONE OF THE TOWN'S LEADING HOSTELS
Visiting Australia and experiencing the natural wonder and fantastic lifestyle has long been a dream for many backpackers across the world. Federal Backpackers is one of the leading hostels in Bundaberg that gives you the opportunity to discover everything our great town has to offer!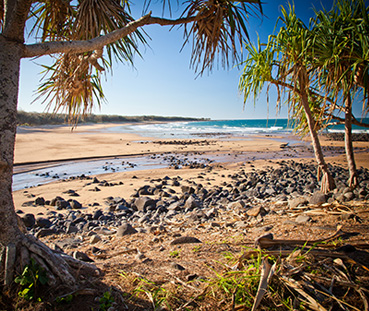 ABOUT BUNDABERG
Bundaberg is situated at the gateway of the world famous Great Barrier Reef, 375 kilometres north of Brisbane. This lively town boasts one of the best climates in the world.
With a population of over 46,000, Bundaberg is famous for its sugar cane industry. The spectacular cane fires during harvest time are a sight to behold!
'Bundy' is also lined with coral beaches and is a fantastic spot for whale watching trips and boat outings to the coral islands of Lady Musgrave and Lady Elliot Island.
The town centre boasts all the major shopping outlets and entertainment you would expect from a vibrant city with clubs, theatres and restaurants galore.
The nautical theme continues within the town itself with the meandering Burnett River fostering a laid back boating culture, alongside ample fishing and nature reserves.
Bundaberg has become one of Queensland's most modern and progressive cities. Founded in 1870, you will find a unique mixture of modern and historical sights throughout the region.
The city's unprecedented progress and development makes it the undisputed centre of the Wide Bay Region.

ALL THE NECESSARY FORMS, PAPERWORK AND GREAT ADVICE FOR APPLYING FOR A WORKING VISA ARE AVAILABLE AT OUR RECEPTION DESK
IF YOU REQUIRE MORE INFORMATION OR HAVE FURTHER QUESTIONS, PLEASE DON'T HESITATE TO CONTACT OUR FRIENDLY STAFF!